« Gary J. Hernandez At Work In His Studio / 2010 | Main | "Incognito" Wins FineArtViews Award / 2010 »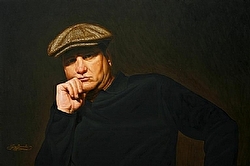 The oil painting "The Irishman" is now on exhibit at The Appleton Museum of Art in Ocala, Florida from January 24 - March 21, 2010 as part of "The New Reality: The Frontier of Realism in the 21st Century", the first traveling museum show of this century to not only look at the state of Realist painting around the world, but to also compare those artworks with their historical predecessors.

Each of the 56 participating artists were asked to identify one historical painting that can be used by museum attendees to compare and contrast today's work with the pioneers of this art technique. The artists cited such predecessors as Ingres, Da Vinci, Durer, Vermeer, Harnett, Constable, Memling and Dali as starting points for their current work as they explored still life, landscape, figurative and even trompe l'oeil art forms. In some cases, the contrast between the old and the new is startling; in other cases, one can almost see the apprentice soaking up the Old Master's techniques for modern visuals. The oil painting "Edward Pailleron", 1879 by John Singer Sargent was the inspiration for Hernandez's "The Irishman".


Comments