« Gary J. Hernandez Artist Talk and New Works Exhibition / 2010 | Main | "Incognito" Sold / 2010 »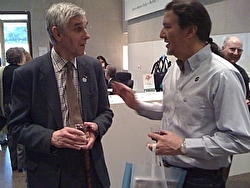 Richard Ormond, Great-nephew of John Singer Sargent, presented "John Singer Sargent: A Personal View" at the Museum of Fine Arts/Houston in February 2010. This fascinating lecture was presented in conjunction with the exhibition "Sargent and the Sea" which is currently on exhibition. Mr. Ormond charted the family relationships and friendships that mattered most to Sargent drawing on family documents and reminiscences.

After the lecture, I was able to meet with him where I expressed my love of Sargent's work and proceeded to tell him how my wife and I had flown to England in 1998 specifically to see the Sargent exhibition at the Tate. He commented that he had co-curated that exhibition. It was indeed a humbling experience to be talking to Mr. Ormond, a direct descendant of the great John Singer Sargent. This was a very special day for me.

Comments
2 Responses to Gary J. Hernandez Meets John Singer Sargent's Great-Nephew / 2010
San dra Gilpin
via garyhernandezstudio.com38 months ago
Gary, I was with you and Josie one time when we went to see the Sergeant (sp?) exhibition at the MFA. I believe we saw that beautiful woman in a red dress of Sergeant's, or am I confusing him with someone else? Love to both of you, Sandra Gilpin
Gary J. Hernandez
via garyhernandezstudio.com38 months ago
Sandra,
You are so right! What a great memory. That was years ago and yes,it was John Singer Sargent you were looking at. I remember the day clearly. We just bought a new membership at the Museum last week and we have already been twice and plan on returning many, many more times.
* indicates a required field