« "Just A Girl, A Coat and Some Clouds" Juried Into Hilliard Gallery Show / 2011 | Main | Salon International Exhibition / 2011 »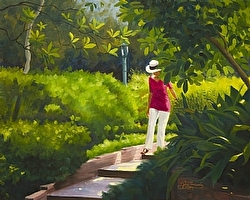 The fourth plein air painting from the Rienzi Gardens series has been completed. For this painting, I setup my easel in the "White Garden" section of the Rienzi Gardens. I was intrigued by the brilliant afternoon light as it casts sparkling spots and mottled shadows on the plants and walkway, creating a symphony of light and shadow. I wanted to capture this magical light and, if only for a moment, have the viewer escape and join me in this brief moment of tranquility.
"Sunspots and Shadow" / Oil on Panel / 8"x10" / $1,100 / March 2011
Related Posts:
Comments
1 Response to "Sunspots and Shadow" / A New Painting from Rienzi Gardens / 2011
Olga Lopez
via garyhernandezstudio.com26 months ago
I love it! It makes me want to be there, enjoying a Spring stroll.
Congratulations, Gary.
* indicates a required field