« 2009 Best Floral Award / 2009 | Main | "Immaculate Conception" Painting Sold / 2009 »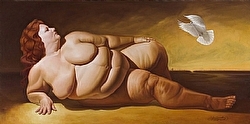 In the works for over a year, "Enlightenment" is now complete. This major figurative artwork is an 18"x36" oil on linen completed February 27, 2009.


Comments
1 Response to "Enlightenment" / New Figurative Oil Painting / 2009
Alicia
via garyhernandezstudio.com45 months ago
A awesome lifelike painting. The painting speaks. It's a prefect piece. I will definitely recommend my clients to your site.
* indicates a required field