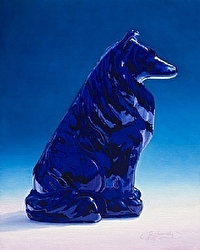 "Eternally Blue" has been accepted into SmallWorks North America, a juried art exhibition and sale presented by The Greenwich Workshop Gallery in association with The Greenwich Workshop, Inc.

Artists will compete for The Gold, Silver and Bronze Medals and Top 40 through a combination of collector voting via the internet and judges' recommendations. The Gallery Director's Award and Publisher's Award are merit awards determined by the Gallery Director and Greenwich Workshop Publisher. Online voting will begin October 31 through November 21, 2008. Visit the website at www.smallworksna.com to vote for "Eternally Blue"!

Opening Reception and Awards Presentation will be held on November 22, 2008 at The Greenwich Workshop Gallery in Fairfield, CT.
Comment on or Share this Article →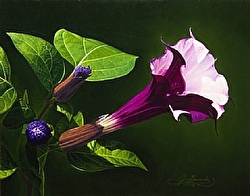 "Anastacia's Datura" was awarded Finalist in the International Artist Magazine Still Life & Floral Challenge #47. The full-page article can be found on page 22 of the October/November 2008 issue #63.

The article consists of three sections...My Inspiration, My Design Strategy and My Working Process. Here is an excerpt from the article. "The choice of using this particular flower came by suggestion of my mother-in-law, Anastacia Pacheco. The Datura's intoxicating purple, as well as its mesmerizing trumpet shape, serves as the inspiration and the subject matter of my painting"
Comment on or Share this Article →