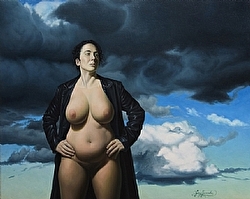 Hunting PLC announced that 128 Texas artists have been selected to move on to the final round of judging in the 2008 Hunting Art Prize. Artist Gary J. Hernandez's oil painting "Just A Girl, A Coat and Some Clouds" was one of the artworks chosen to move past the first phase of the two-tiered jury process. A second panel of jurors will meet in April to determine the winner of the competition's $50,000 award. After the final round of judging, the artwork will be exhibited at the Hunting Art Prize gala on May 3 at the Decorative Center in Houston at which time the $50,000 award winner will be announced.

Comment on or Share this Article →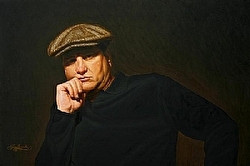 The oil painting "The Irishman" was juried into the 2008-2010 traveling exhibition "The New Reality: The Frontier of Realism in the 21st Century". Current tour schedule includes Wichita Art Museum-April 27-June 22, 2008, The Springfield Museums, R.W. Norton Art Gallery, Museum of Texas Tech University and the J.Wayne Stark Gallery at Texas A&M University in College Station.

The theme for this traveling museum exhibition is: If the great artists of history were painting contemporary Realism today, what would the artwork look like?
Comment on or Share this Article →