The painting "Virgin of the Immaculate Conception after Murillo" has sold from our studio/gallery in Houston, Texas.

The third cherub from the left, holding the wheat sheaves, is my grandson Andres. I was inspired to paint this image after seeing Murillo's famous Virgin paintings at the Prado Museum while in Spain.
Comment on or Share this Article →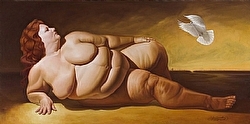 In the works for over a year, "Enlightenment" is now complete. This major figurative artwork is an 18"x36" oil on linen completed February 27, 2009.


Comment on or Share this Article →