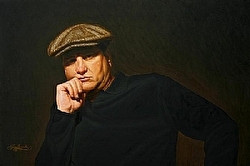 The oil painting "The Irishman" is now on exhibit at The Leigh Yawkey Woodson Art Museum from June 27- August 22, 2010 as part of "The New Reality: The Frontier of Realism in the 21st Century", the first traveling museum show of this century to not only look at the state of Realist painting around the world, but to also compare those artworks with their historical predecessors.

Each of the 56 participating artists were asked to identify one historical painting that can be used by museum attendees to compare and contrast today's work with the pioneers of this art technique. The artists cited such predecessors as Ingres, Da Vinci, Durer, Vermeer, Harnett, Constable, Memling and Dali as starting points for their current work as they explored still life, landscape, figurative and even trompe l'oeil art forms. In some cases, the contrast between the old and the new is startling; in other cases, one can almost see the apprentice soaking up the Old Master's techniques for modern visuals. The oil painting "Edward Pailleron", 1879 by John Singer Sargent was the inspiration for Hernandez's "The Irishman".


Comment on or Share this Article →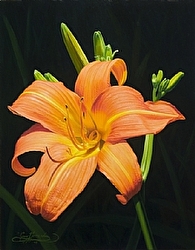 "Monika's Orange Lily", "Sycamore" and "Wimberley Pastoral" have been juried into "The State of Contemporary Realism" exhibition at the Hilliard Gallery located in Kansas City, Missouri.


The State of Contemporary Realism
Wednesday, June 23rd, 2010 - Saturday, July 31st, 2010
Contemporary Realism advocates a simple realistic painting style. The artists of the genre come from various backgrounds but are united in their choice to depict their subjects accurately, rather than conform to the more abstract movements popular in Modern art. Contemporary Realists choose subjects from daily life or that will have meaning to modern audiences.Generally speaking, Realism is an intent to portray ordinary contemporary life, with attention to individual and regional eccentricities. Contemporary Realism is the straightforward realistic approach to representation which continues to be widely practiced in the post-abstract era. It is different from Photorealism, which is somewhat exaggerated and ironic and conceptual in nature. Contemporary Realists form a disparate group of artists but, what they share is that they are literate to the concepts of Modern Art, but chose to work in a more traditional art form. Many Contemporary Realists actually began as abstract painters, having come through an educational system dominated by teachers and theorists dismissive of representational painting. The State of Contemporary Realism show will feature such artist as Jeff Dodge, Peter Cole, Lacey Lewis, Louis Copt, Tony Armendariz, Justin Marable, Lori Norwood, Ronald Christ, Gary Hernandez and others.

Comment on or Share this Article →