"A Warm Gaze" will be a participant in Salon International 2011 at Greenhouse Gallery of Fine Art located in San Antonio, Texas. This will mark my sixth year being juried into this project of the International Museum of Contemporary Masters (IMCM), founded in 2001, as a support system for traditional representational artists.
Salon International 2011 will be a spectacular exhibit of 415 paintings selected from 1,163 entries representing 47 states plus DC in the USA and 13 additional countries. Each year the bar of artistic excellence is raised higher, the competition among artists becomes even greater, the awards are more meaningful and Salon International becomes more prestigious and more respected. I am honored to be a part of this exhibition and accept the challenge to compete with some of the best artists in the country. Daniel E. Greene, N.A. will serve as this years juror.
Exhibition Dates: April 2-22, 2011
Greenhouse Gallery of Fine Art / 6496 N. New Braunfels Ave. / San Antonio, TX
(800) 453-8991 or www.greenhousegallery.com

"A Warm Gaze" / Oil on Panel / 8"x10" / $3,500 / Completed January 2011
Comment on or Share this Article →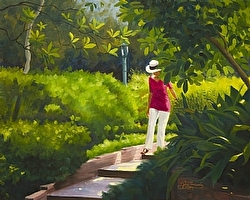 The fourth plein air painting from the Rienzi Gardens series has been completed. For this painting, I setup my easel in the "White Garden" section of the Rienzi Gardens. I was intrigued by the brilliant afternoon light as it casts sparkling spots and mottled shadows on the plants and walkway, creating a symphony of light and shadow. I wanted to capture this magical light and, if only for a moment, have the viewer escape and join me in this brief moment of tranquility.
"Sunspots and Shadow" / Oil on Panel / 8"x10" / $1,100 / March 2011
Comment on or Share this Article →