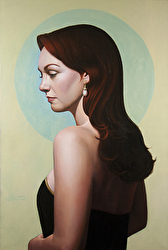 I'm excited to announce that I am working on a new series of paintings titled "Objects of Desire" of which "Pearl Earring" is the first to be completed. For those of you who have been following my artwork, you may recall a small oil painting titled "Muse" which was the study for "Pearl Earring". The second in this series, "Lipstick" is currently on the easel.
"Pearl Earring" / Oil on Linen Canvas / 30"x20" / $11,000 / Available
"Muse" / Study for "Pearl Earring" / Oil on Panel / 10"x8" / $2,500 / Sold
Comment on or Share this Article →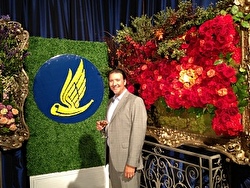 Once again, the Hunting Art Prize 2012 Gala was truly a night to remember! The guests were greeted to great art, lavish decorations and fabulosly decorated food stations overflowing with tasty delights. This great event was to celebrate artists from the great State of Texas and to honor the winner of the 2012 Hunting Art Prize. Over 1,600 entries were received of which 109 artists were chosen to compete for the most generous prize of $50,000 offered to one artist. This year's winner was Houston artist Michael Bise. Many thanks to Hunting PLC for their support of the arts and for the opportunity to participate with my oil painting "A Warm Gaze".
Comment on or Share this Article →